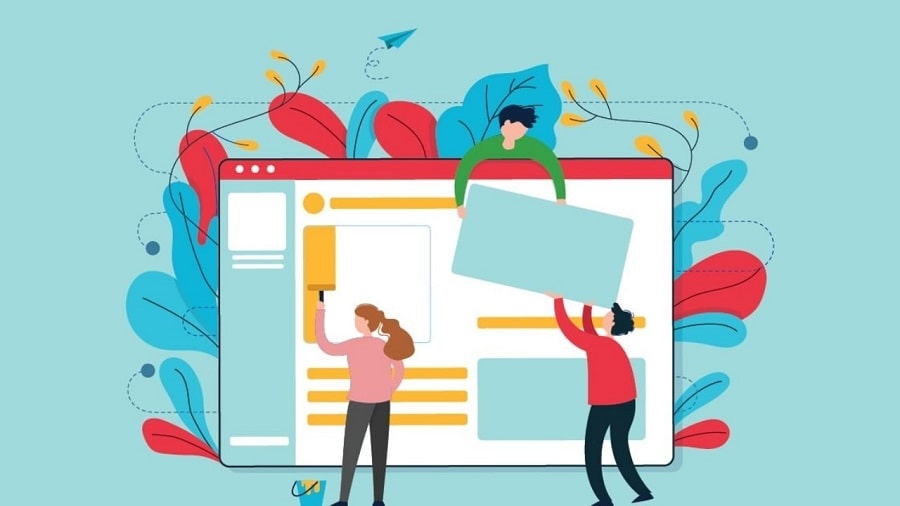 Reading Time:
3
minutes
The supremacy of Ayurveda over Allopathy for its holistic and natural approach has been acknowledged by a majority of the masses, which makes it essential to revolutionizing this healthcare branch digitally so that it reaches the maximum audience.
About 5% of Google searches are based on health-related issues. Providing them well researched, verified and authentic information can bring about a huge breakthrough in this medical branch.
If you're looking out for principles behind Ayurveda Website Development, this is the place for you! Here we'll discuss the prerequisites of creating an Ayurveda Website and how this can help in amplifying your online business game organically, as an Ayurveda Website Design that addresses the queries and concerns of a patient will draw a lot of traffic from this particular range of audience.
Principles to Create the Best Online Experience for Patients
1. Provide Compelling and Verified Content:
Publishing authentic and accurate content is always the key to invite and retain an audience. Information that leads the searchers to verified techniques, procedures, and products to cure their ailments will always be valued and trusted. As an Ayurvedic Healthcare Provider empowering patients with valuable content such as blogs that speak of personal experiences, patient reviews and feedback about their journey of recovering and testimonials are key features to boost the confidence of the patients.
2. Add Relevant Images and Interactive Videos:
Adding appropriate images to your content only enhances the patient experience. As an Ayurveda provider, your website design must include ample relevant pictures of various products that you would want to suggest to the audience along with descriptive content stating the benefits of the same. Using images of real people or interactive videos that talk about patient journeys or services provided, helps the audience to connect more and establish trust in your brand.
3. Easy Navigation:
An easily navigable site creates an enhanced user experience as it becomes simpler for the visitor to move from one page to the other within your website. In the case of an Ayurveda website, patients set out searches to look for different alternatives to cure their illness and then to verify his search by reading real-time reviews and blogs, it can be quite frustrating for him to be stuck on a website with confusing navigation. Such experiences can drive out traffic from your website and lead to high bounce rates.
4. Positioning Strong Calls-To-Action:
As a healthcare provider, it's never going to be enough to just provide information and content to your patients, without enabling them to take action, to reach out to medical care, or place orders for various products that your website talks about. Placing strong CTAs permits the visitor to take necessary actions to take the next step in their search journey. For example, if a patient needs to fix an appointment to see an Ayurveda Healthcare Expert, an ideal Ayurvedic Clinic Website Design must support the patient's action by placing a CTA to schedule the appointment online or on call.
Few other CTAs that could be included in your Ayurveda Website Design are:
Add to cart: to buy various Ayurvedic Products.
Form Submission: to book appointments or online healthcare sessions.
Social Sharing: to be able to share to Social Media pages.
Subscribe Button: to subscribe to the latest updates and newsletter.
5. Improving Website Speed:
Improving the loading speed of your website can directly contribute to a low bounce rate. It's absolutely crucial to optimize your website in a manner that it loads within three seconds. This can be done by compressing the images and reducing redirects. The loading speed of a website greatly determines its success.
6. Creating a Responsive Website:
A Responsive Website displays its content and layout in proportion to the size of the device screen. A large number of internet surfers use a mobile device to access the web. If your Ayurveda Website is mobile-friendly, it will drive a lot more traffic, as studies suggest that 74% of searchers are likely to return to a website that is responsive to a mobile device.
You definitely wouldn't want to miss out on patients, who carry out "the near me" searches using their mobile phones to determine their current location and yield search results based on the proximity. Using a CMS that optimizes your website according to the device screen would be a smart approach in this case.
Create Outstanding Patient Experience with Toggloid Technologies
Creating a Healthcare Website Design that is patient-friendly and interactive at the same time is of vital importance. Along with these principles, Toggloid Technologies also takes the following considerations into bracket while designing your Ayurveda Website to create the best user experience:
Proper keyword and Medical SEO search.
Providing rich and high-quality content along with a proper background of Ayurveda.
Registration Forms.
Patient Portfolio.
Easy signup for Newsletters.
Online Consultation facility.
Blog Area.
Scheduling Appointments.
Patient Reviews and Feedback.
Q&A Portal for Patients.
As Digital Media Experts we can provide your Healthcare Facilities the correct pathway to attain digital success, by providing a well-designed Ayurveda Website to empower your audience with a transforming experience. For more information and details please contact Toggloid Technologies now!